Suzanne Smallwood
---
President and Chief Analyst
Cell(859) 227-2854
E-mail: ssmallwood@equixbio.com
Considered one of the most knowledgeable bloodstock advisors in the industry, Suzanne coordinates the equine analysis efforts at EQUIX. She works closely with our clients to select the best racing and breeding prospects, as well as optimal matings for their mares from stallions in our database.
From a background with horses-in-training, Suzanne began her career at EQUIX in 1986 as an Equine Analyst. She examined and measured horses for clients at sales and at farms, ad soon mastered our programs to evaluate racing and breeding stock. In addition to spearheading our selection and field work, she applies her unique knowledge of biomechanics to prepare a quantitative analysis of horses based on the results of EQUIX's premier computer programs.
EQUIX adds an edge to all areas of bloodstock services - yearling selection - video analysis and two-year-olds in training - breeding evaluations - matings - and cardio reports. Suzanne's great horsemanship and EQUIX services offer clients a unique combination of expertise and biomechanics to make the best bloodstock decisions possible.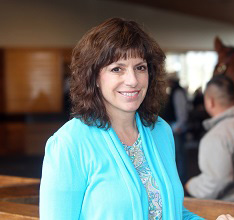 Sarah Thompson
---
Equine Analyst
Cell(859) 583-4028
E-mail: sarah@equixbio.com
Sarah joined EQUIX in August of 2021. Well-known on the Sales scene, Sarah brings a diverse background in all aspects of the Thoroughbred industry. She most recently served as Sales Coordinator and Client Relations for South Point Sales Agency, and worked for other top consignors such as Gainesway, Bluewater, and Hidden Brook.
Her dozen years of hands-on experience include yearlings and sales prep, horses in training with Jonathan Sheppard and at Bridlewood's training division, and mares and foals as assistant manager at Paul's Mill and Timber Town farms in Kentucky. Her previous roles expanded to include partnership management and pinhooking.
Sarah has a keen eye for identifying racing prospects that have the unique traits observed in accomplished racehorses. And with experience on both the buying and selling side of the industry, her insight on market trends adds a valuable resource for EQUIX clients.
As an Equine Analyst, Sarah will perform physical measurements and cardio analysis, assist with our ProStride digital stride data, and advise clients on racing and breeding decisions.
A native of Danville, Kentucky, Sarah attended Centre College and graduated from the North American Racing Academy.