OptiMatchPro® Broodmare Matings
---
EQUIX's OptiMatchPro® adds a scientific edge to the art of planning Thoroughbred matings.
Genetic science shows that a horse's physical measurements are predictable, to a degree, by examining the measurements of that horse's Sire and Dam.
Based upon the heritability of various bone measurements, OptiMatchPro® calculates the genetic probability of your Mare producing a well-balanced foal when paired with a particular Stallion.
Our breeding program finds the Stallions that will retain a Mare's positive structural traits - key areas such as stride balance and power - but also correct any areas that may need improvement - such as body weight and muscle mass.
"Selecting stallions that will complement and preserve your Mare's body balance, stride traits, and power will increase the odds of producing well-balanced foals that will race successfully and sell lucratively at auction."
---
Why add OptiMatchPro® to your Mating decision making?
---
Structural analysis zeros in on the actual physical traits of your Mare.
You learn exactly what her structural contribution will be to her future foals. And you learn more about the influences of her own Sire or Broodmare Sire to her makeup.
Pedigree evaluations give you the historical compatibility and affinities between bloodlines.
But there are many stallions to choose from within each Sire-line in any given stud-fee range.
OptiMatchPro selects the stallions that are the best structural fit for your Mare while recognizing her best bloodline crosses.
---
Here is an example of how OptiMatchPro helps:
---
A client has a well-bred, young Mare by Awesome Again. The client is most interested in capitalizing on the strong affinity of the A.P. Indy / Seattle Slew line with daughters of Awesome Again. And he wants a younger sire who won at a mile or beyond.
Looking at the Second-Crop Sires of 2017, we find four sires who are A.P. Indy-line stallions to consider. The Mare was matched with the four sires and the results are distinctly and statistically different.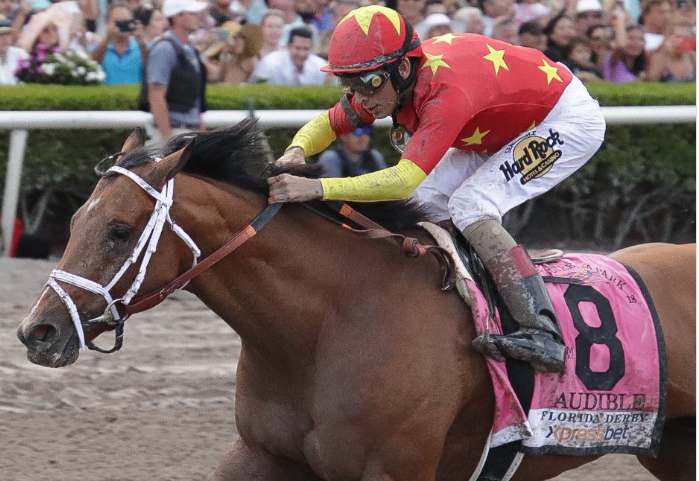 Audible
(by Into Mischief)
G1SW $1.08-million
Big Brown
(by Boundary)
Champion $3.6-million
Echo Zulu
(by Gun Runner)
Champion $1.7-million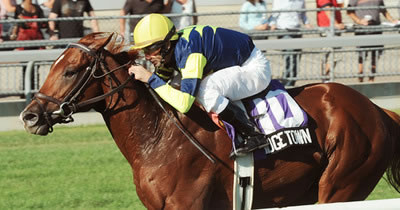 Bridgetown
(by Speightstown)
MGSW $993k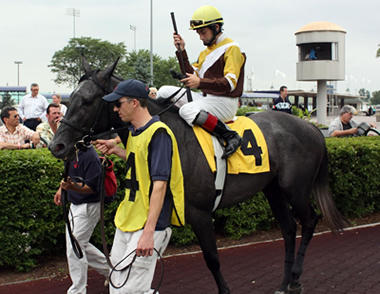 Hollinger
(by Black Minnaloushe)
Can Champion $712k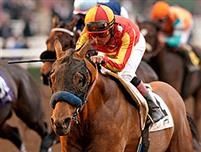 Hoppertunity
(by Any Given Saturday)
MG1SW $4.69-million
---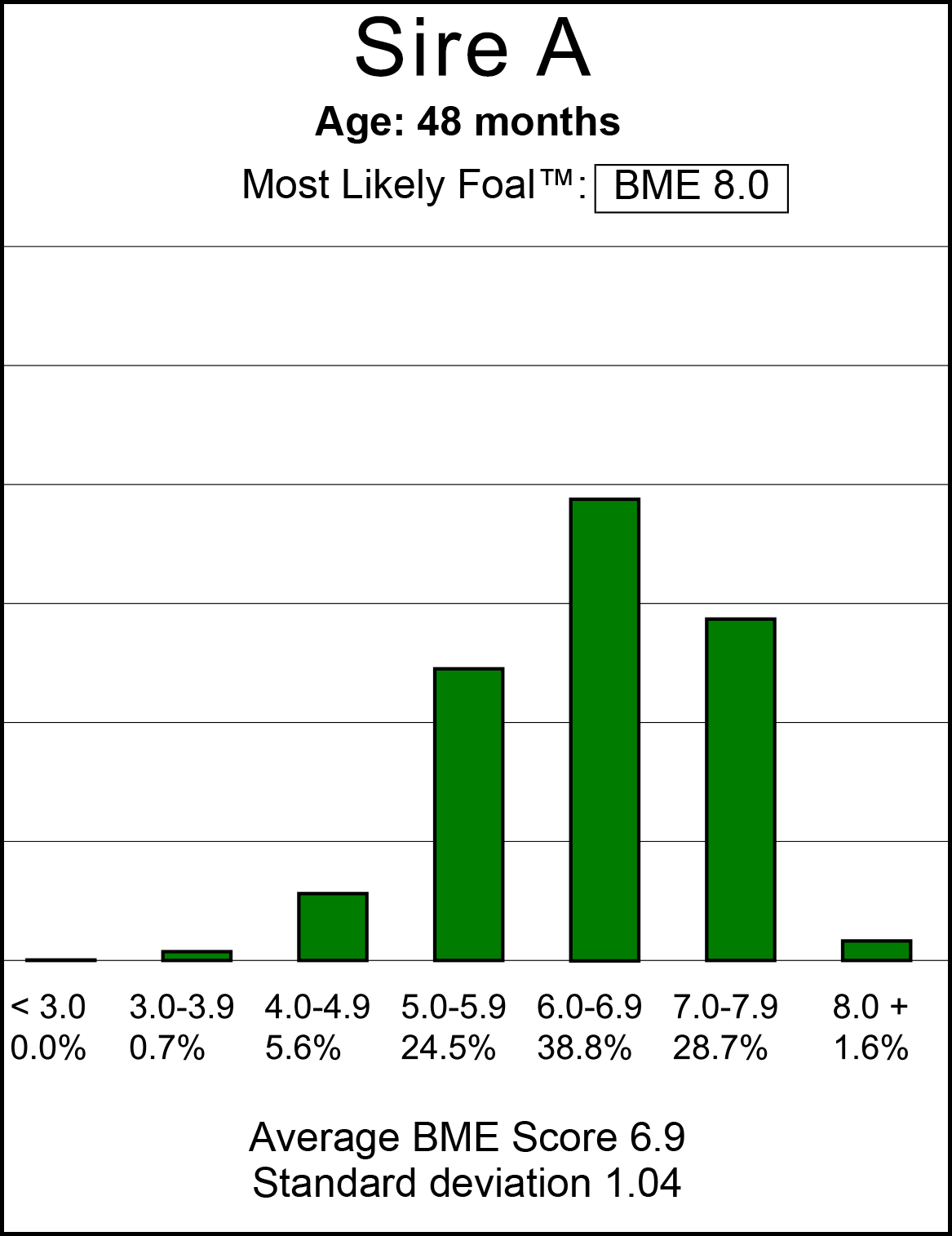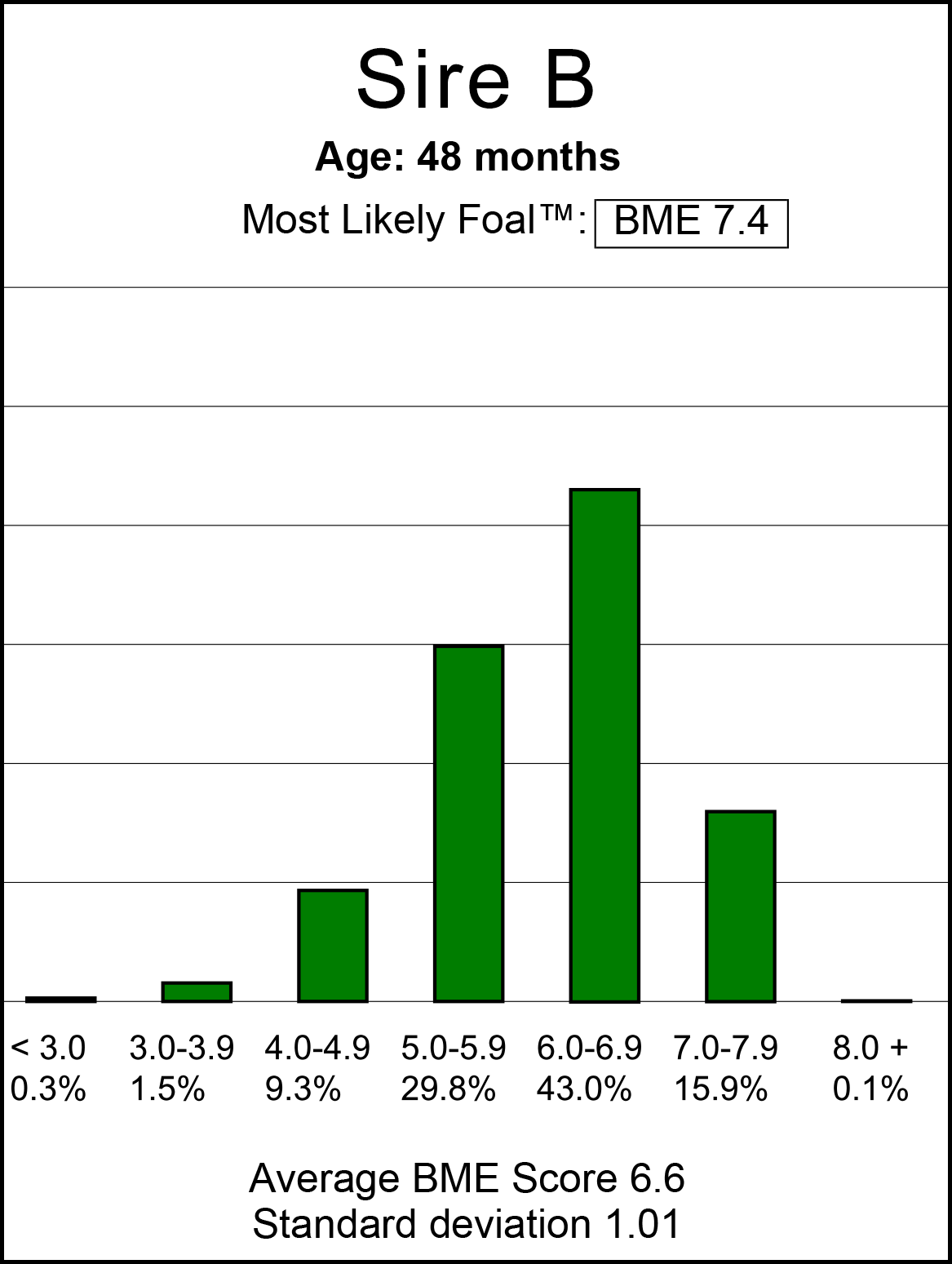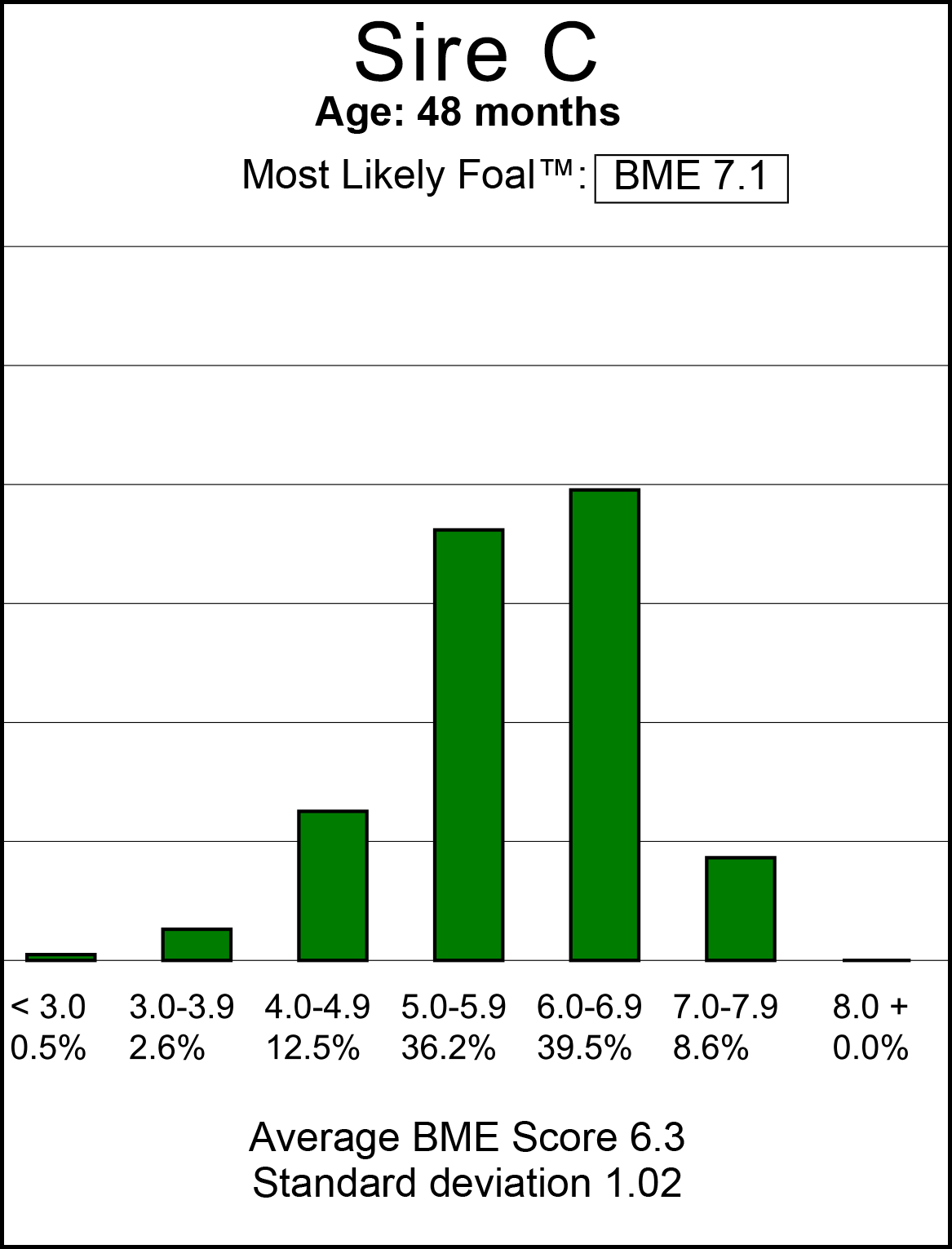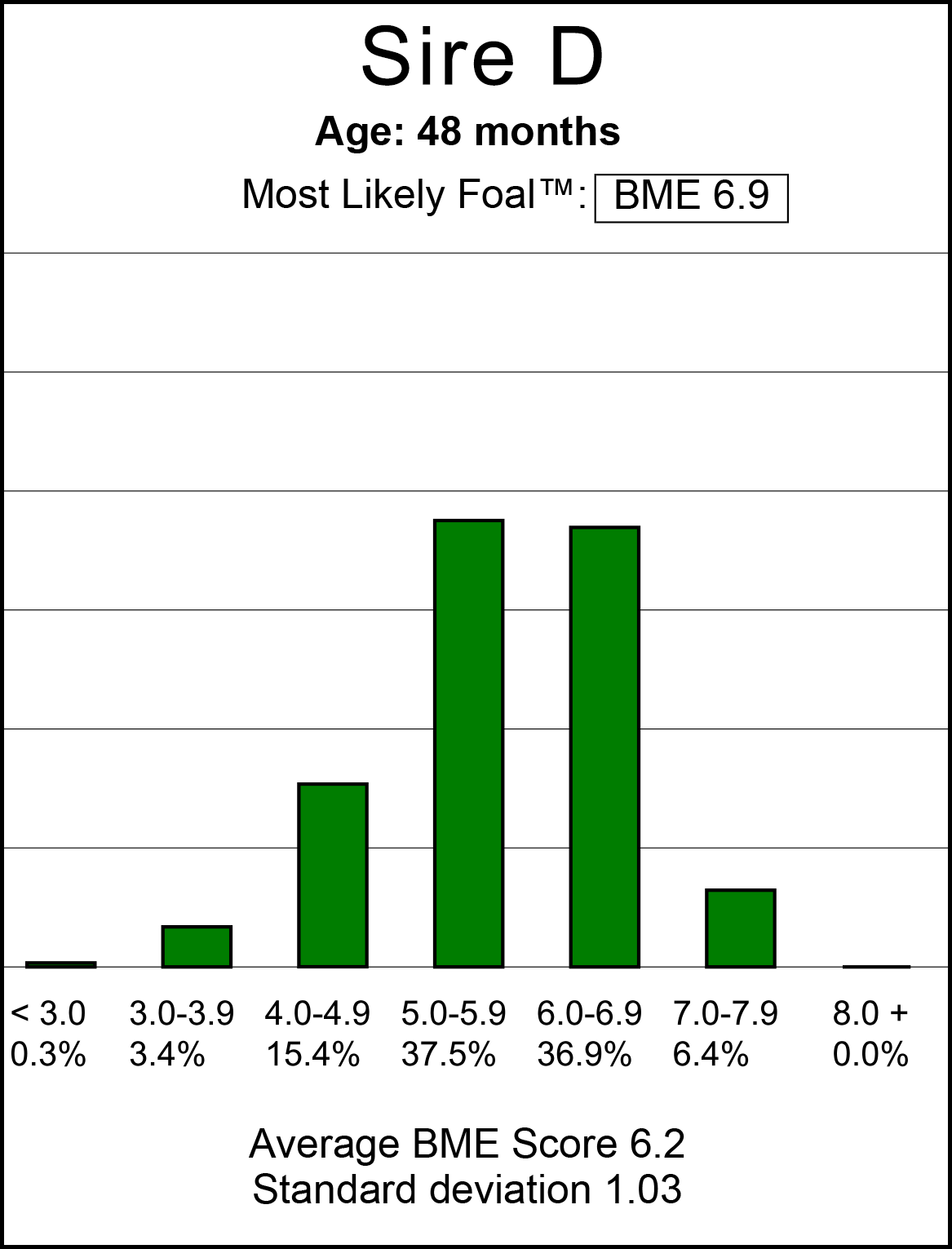 Sire A shows a very high Average of 6.9 and Most Likely Foal of 8.0. The percent chance of getting foals from this mating whose own BME Scores will be over 7.0 is a very strong 30.3%. This is an A+ mating.
Sire B results are above-average but not as high as Sire A. With an Average of 6.6, MLF of 7.4 and the percentage over 7.0 of 16.0%, this is a B+ mating.
Sire C shows an Average of 6.3, a MLF of 7.1 and an 8.6% chance of getting foals with BME Scores over 7.0. This is a below-average, B- mating.
Sire D shows an Average of 6.3, a MLF of 6.9, and a 6.4% chance of getting foals with BME Scores over 7.0. This is a below-average, B- mating.
---
Sires C and D, while good sires, show too much variation between their biomechanics and that of the mare. And there is a greater chance of creating a foal whose own mechanics are less balanced than either of the parents.
This happens all the time in our breeding population. Superior race mares being bred to the best stallions and many of these crosses do not produce a high class race horse. Both parents have very high Biomechanical efficiency, but very slight deviations in key areas of balance can create a significant reduction in racing efficiency and performance.
The most consistent producers in our population - Mares and Stallions - are those whose structure matches well with a variety of physical types within the population.
---
Learn More
---
---
How it Works
---
OptiMatchPro® calculates trillions of possible foals from a particular Sire-Dam mating.
By selecting a random sample of 10,000 foals, the program determines the Average Predicted Biomechanical Efficiency Scores (BME Scores) for a foal from that mating.
The results also project the actual BME Score for the Most Likely Foal™ or Target Foal from that mating.
Higher BME Scores reflect excellent body balance and better racing efficiency.
OptiMatchPro® ranks the Stallions within your stud-fee range, allowing selections to be made within a client's economic guidelines. Our advisors apply pedigree affinity, market appeal, and specific conformation needs.
---
Broodmare Analysis - $775
---
After taking structural and cardio measurements, the breeding potential of a mare is evaluated utilizing the OptiMatchPro® program.
A mare's ability to produce good foals is determined by how well her structure blends with stallions and/or how easy her weak points are to correct.
Our Mare Analysis also gives you the scores on a mare's previous matings and to her covering sire. EQUIX advisors work within each client's guidelines to select the best structural matches from our comprehensive and current stallion database.
We Provide a dozen matings with your initial report. Our advisors work with our clients to apply pedigree affinity, market appeal, and specific conformation needs to the selections.
Clients may order additional stallions each season for $50 per stallion, or Best Match Updates for $350 per batch.
For over 25 years, OptiMatchPro® has selected and fine-tuned the matings for many successful breeders. Our comprehensive service has helped produce:
Champions and Graded/Group stakes winners
Stakes Winners, black-type earners, and state-bred champions
Hundreds of weanlings, yearlings, and two-year-olds that have been sales toppers, the top seller by a sire that year, or returned substantial profits by simply outselling their pedigrees
Isn't He Clever
(by Smarty Jones)
MSW $940k
James Street
(by El Prado [Ire])
MGSW $637k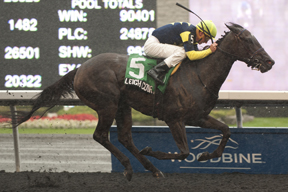 Leigh Court
(by Grand Slam)
Can Champion $778k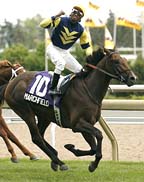 Marchfield
(by A. P. Indy)
Can Champion $1-million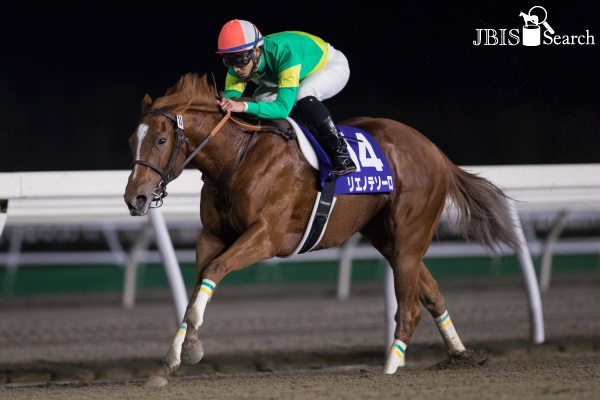 Rieno Tesoro
(by Speightstown)
MSW/G1SP Japan $1.1-million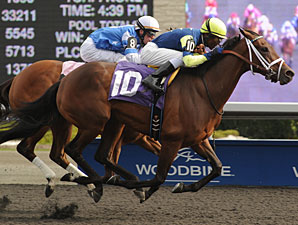 Roxy Gap
(by Indian Charlie)
Can Champion $952k

Sterwins
(by Runaway Groom)
GSW $971k
Unbridled Mo
(by Uncle Mo)

G1SW $1.06-million

Wavell Avenue
(by Harlington)

G1SW $1.1-million

Wilburn
(by Bernadini)

GSW $588k
---